OOORAH! 2019!
Well that's another year done, or at least it is as far as we here at @Ooorah are concerned, anyways! 2018 was pretty awesome. We put out some banging issues of Tevun-Krus, and all of #TeamOoorah would like to thank everyone who got involved, be it with submissions or the simple act of reading our most humble of Sci-Fi offerings!
Anyways, that's enough of that. Let's get down to the delightfully dirty business we're here for, eh?
So why're we doing this? What's Tevun-Krus all about? Well if you need either of those questions answering then clearly, you've been living beneath a rock for the past x number of years.
TK is our monthly Sci-Fi e-zine, featuring nothing but content from @Wattpad 's quite awesome Sci-Fi community. Short stories, poems, reviews, articles, and all other kindsa' awesome stuff! It's also the longest-running ezine on Wattpad, too. Think about it for a second. The first issue of 2019 is gonna' be TK64. No other WattZine can claim such longevity.
Below, you'll see several boxes each with their own sub-genre, a little bit of information about said sub-genre, and a list of who's doing what for that particular issue. Basically, if you wanna' get involved then shout out. "OI! I just ate a whole sheet of high-powered blotter acid and I wanna' write a story for the AcidPunk issue, too!" - Yeah, just like that, or whatever… You get the point, right?
So, without further ado…
---
TK64 - International III: CommunicationPunk
Release Date: February 21st, 2019
Last year's second International issue was bigger and better than ever. This year we've decided to give it a theme: CommunicationPunk. Communication, and the language barriers that often go with said communication—all wrapped up in sci-fi -Punk goodness! Any and all languages are allowed for this issue, including English! Check the other thread we've got dedicated just to this issue!
---
TK65 - AcidPunk
Release Date: March 3rd, 2019
The ideals and fads of the 1960s prevail, while a counter-cultural movement moves forward governmental advancement. AcidPunk has also been called "TransistorPunk," "PsychedeliPunk" or "WeedPunk" when describing the psychedelic drug-ridden elements of the society or hemp-based technologies.
Who's Doing What?
Short Story -
Review -
Article -
---
TK66 - Satanic SF
Release Date: April 7th, 2019
Satanism rules in this science-fiction sub-genre. Is the Devil an alien? Or maybe there are science-based rituals dedicated to the dark lord. Or just, y'know, demon hellspawn through a teleportation device on one of Mars' moons. This is relatively untouched territory, so go wild and let's create some sci-fi history, 'troopers!
Who's Doing What?
Short Story -
Review -
Article -
---
TK67 - Virtual Reality
Release Date: May 5th, 2019
Virtual reality (VR) is a technology which allows a user to interact with a computer-simulated environment. If you didn't know that, you probably died 50 years ago. Is the simulation known about by its users? Is there a way to get out? Questions to ponder for your stories!
Who's Doing What?
Short Story -
Review -
Article -
---
TK68 - SkyPunk
Release Date: June 2nd, 2019
In SkyPunk, everything is in the sky. You name it: shopping centres, amusement arcades, offices, homes, McDonald's, and everything else!
That's not to say that things can't be on the ground, too, but the focus is most definitely on what's above! BioShock Infinite is an excellent example.
Who's Doing What?
Short Story -
Review -
Article -
---
TK69 - Erotic SF
Release Date: July 7th, 2019
Wait, what? You may have been expecting to see Science Fantasy here, but then the bright idea was had that 69 only comes around once, so we might as well make use of it. And here we are: erotic sci-fi! Kind of like romantic sci-fi stuff, but with an emphasis on the carnal acts that tend to follow!
Who's Doing What?
Short Story -
Review -
Article -
---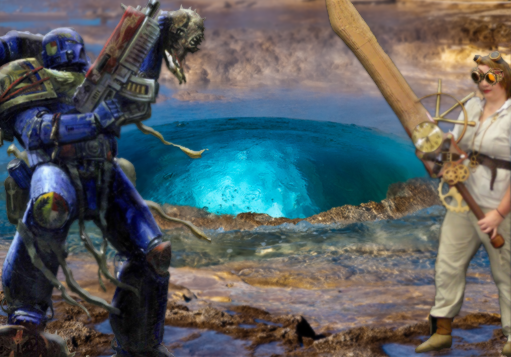 TK70 - Punk Wars II
Release Date: August 4th, 2019
The favourite cross-punk sub-genre created right here on Wattpad is back! Two or more -Punk sub-genres collide! Do they coexist in one particular world, duking it out in a battle of technologies? Does one (or more) literally invade the other's world? You decide! It's your rodeo, 'trooper!
Who's Doing What?
Short Story -
Review -
Article -
---
TK71 - Spy-Fi
Release Date: September 1st, 2019
Think the world of subterfuge, spies, gadgets and deception, and then add in a science-fictional twist!
Who's Doing What?
Short Story -
Review -
Article -
---
TK72 - Anti-Villain Special
Release Date: October 6th, 2019
The antithesis of the anti-hero. Where the anti-hero might do good deeds for morally bankrupt reasons, the anti-villain has good intentions but ultimately questionable methods! Want to solve world hunger? Thin the herd with secret sterilization!
Who's Doing What?
Short Story -
Review -
Article -
---
TK73 - Best of 2019
Release Date: November 17th, 2018
Small and exclusive, just the way we like it. One brand-new story for each of the previous-tackled 2019 sub-genres.
---
TK74 - A Very Superhuman Christmas
Release Date: December 22nd, 2018
Going back to the theme of issue number 6—Superhuman SF. Superpowers and superhuman abilities with a Christmassy twist!